10 Ways to add value to your home before selling
6th December 2017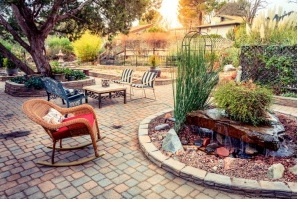 A 2016 NI homeowner survey found that 65% of the Northern Ireland public would make some form of change to their home if they were selling it, with tidying the garden and making minor decoration changes the most popular changes.
Only 3% of the public suggested they would do some major repairs to the property, while a further 3% said they would do a full renovation of the property.
If you fall into the 65% of NI folk who would make changes to their home if selling it, here are 10 ways to add value to your home before you begin your sales process.
Extend with a conservatory
While it can be a considerable investment, adding an extension like a conservatory or sunroom to your home is one sure way to increase the value. This additional living space is not only a great way of entertaining guests in your home, but should you be looking to sell, it can add up to 10% to the value of your property.
Loft conversion
Another significant investment, adding a loft conversion to your home can add up to 15% on the value of your property, especially if you can get more than one room in the space. While most lofts will have enough space to being a conversion project, it's worth getting an architect or builder in before you begin.
Replace your windows
If you have single glazed or even double glazed windows, upgrading these windows, and the finish of them can help to add value to your property. While PVC frames can be great and require little maintenance, looking for windows with aluminium frames can add some serious kerb appeal to the look and feel of your home.
Do some landscaping
Whether it's some decking, fencing and paving or nice garden features and a patio for entertaining, investing in your garden can help make a great first impression to buyers. In cities, garden space can often be at a premium, and investing in your garden can add up to 10% of the value of your home.
Renovate your kitchen
A full kitchen renovation can be a considerable investment, but if your kitchen is looking a little dated and your considering selling your home, then upgrading the kitchen space can be one of the biggest ways to win over wannabe buyers. Opt for a neutral, contemporary finish to appeal to as many buyers as you can.
Update your bathroom
This upgrade very much depends on the condition of your bathroom. If it's not too dated then a new bathroom may not add significant value, and it might just be a case of subtle changes like new tiles and a lick of paint.
Add storage spaces
A small investment that can really add some decent value is additional storage space, especially in smaller homes. A lack of storage space can often put buyers off, but looking for storage solutions in space like under the stairs, your roof space, around the chimney breast or under / above sinks can really appeal to buyers looking for a new home.
Exterior look
With the outside of your home providing a first impression to visitors and potential buyers, looking for small improvements here can go a long way to improving the feel of your home, adding value in the process. Whether it's painting walls, changing your front door, adding some cladding or even adding some steps or a porch at your entry can all help to improve the exterior of your home.
Convert your garage
If you're not using your garage to park your car, think of what you could be doing with it. From a small apartment to a gym, bedroom or study area, investing in your garage and turning it into an area that buyers can use, can significantly add value to your home.
Open those walls
Our final recommendation for adding value to your home is to consider opening those walls to an open plan living concept. Whether this is an all-in-one living, dining and kitchen space, or an open plan living-dining or kitchen-dining area, the larger space that an open plan concept creates can provide serious appeal to many buyers.